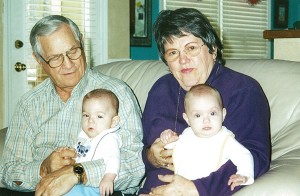 Will Campagna's parents are of Italian descent.  His father, Carlo, arrived on Ellis Island in 1917. His family worked in the coal mines in Pennsylvania.
Wilbert Vincenzo Campagna was born on June 27, 1932.  He served in the United States Army during the Korean War and played football at Catawba College.  He met and married Bette Rae Holshouser on August 9, 1958.
Will served in the North Carolina Education system for 36 years teaching biology, physical education, and weightlifting.  He also coached football for 34 years, basketball for 10 years, baseball, track, and golf.
Bette took a leave of absence from the North Carolina Education system, after dedicating 25 years to teaching English and French, to raise their four sons.
They have almost 65 years of combined experience and service preparing children to become leaders in our community!